Welcome to WoodHaven...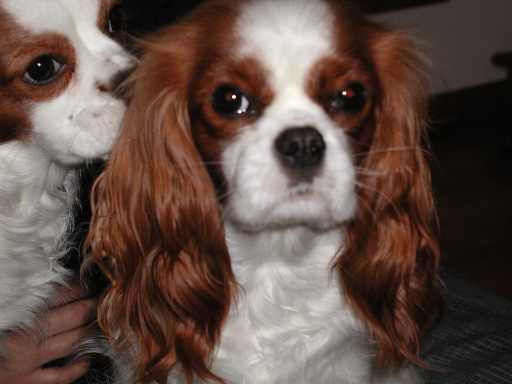 We treat our dogs like they are our children, so we hope that the families who adopt our puppies do so as well. We figured that you might want to know a little more about us and why we decided to start breeding Cavalier King Charles Spaniel puppies in the first place.
Years ago, we decided to adopt our first Cavalier. We spent LOADS of time learning about the breeders out there and trying to determine who to purchase from. We wanted a breeder with a reputation for ethics and quality breeding. We chose a great breeder, now our friend, Mary Hanus of Winterhaven Cavaliers, from whom came Katrina - a wonderfully loving cavalier with remarkable poise, conformation and temperament. We found that she was noticeably smarter and more loyal than any dog we had ever had. Katrina was a dream come true.
It was not terribly long after this that we decided that Katrina should have a playmate (or perhaps our younger daughter, Jennifer, really, really wanted her own dog.) We were lucky enough to find Sue Shidler of Sevenwoods Cavaliers and a bit later, Nicholas showed up. Nicky melded to Jennifer's side and they both were in heaven. While Katrina had a strong personality, Nick has a softer spirit. He still has, throughout his life, displayed love and loyalty beyond our imagination.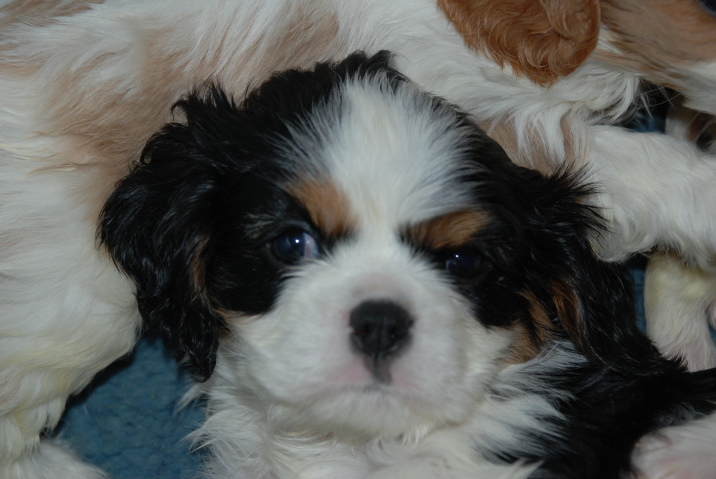 Katrina had been with us only a short time when we decided we would enter her in a "fun show". The judge, highly-regarded in the AKC and CKCSC-USA, took notice of Katrina, gave her high accolades, and we knew immediately that this was going to be the beginning of something wonderful. After that, we decided we wanted to start researching the idea of breeding Cavaliers. We read many, many articles, books and opinions by people who were both for and against breeding. We decided that if we were going to breed Cavaliers, we were going to be at the forefront of ethical breeding. We promised each other that we would never put money before a dog and would keep our motivation for breeding to be our simple love of the breed.
There you have it, that is how it began. After Nick came Topper... then Muffin... and Emma... and so on...
We breed only occasionally, always aspiring to further improve our Cavaliers, both in health and conformation. We understand the importance of breeding healthy Cavaliers and have our dogs heart and eye tested by board-certified specialist veterinarians. Additionally, our breeding Cavaliers are given MRI's and evaluated by a veterinary neurologist to screen for Syringomyleia. In doing so, we can breed with confidence, knowing the chance of dreadful inherited diseases will be reduced. We also realize the need to keep to good breed type, size and temperament along with sound construction and good overall confirmation. Having a well-balanced dog should lead to good movement. Appropriate exercise needs to be given to build and maintain good muscle tone.
Cavaliers are an affectionate and playful breed and great fun to be around. They love to run free, chase and fetch toys and have a great time out in the fresh air, no matter what season: wet or dry. Many of them also like to swim or paddle and will readily retrieve from the water.
Being very social animals they thrive on human companionship and will settle easily to various lifestyles. They are intelligent dogs and easily trained as they are always willing to please.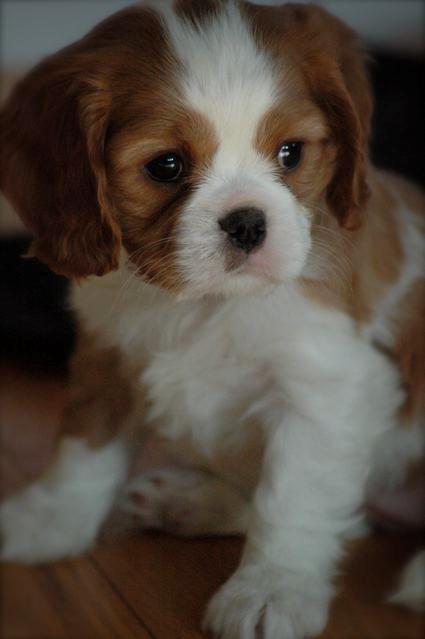 We are situated in Northern Illinois, only a short drive from both Chicago and Milwaukee. All our dogs live indoors as part of our family. Cavaliers are not suited to being kept in kennels and should not be housed out-of-doors.
We always encourage you to contact us with any questions you might have. You can ask us about dog training, behavior or finding a new puppy. We'll help you even if you haven't gotten a puppy from us, don't intend to or even if you don't own a Cavalier. We do this simply because we absolutely love our dogs and want to share the joy that they have brought to our lives with you.
You can be assured that we will always put ethics at the forefront of our breeding. We will screen our dogs for any genetic defects with the best technology available. We will never breed a dog that has any genetic defects or behavioral problems. Our promise to you is that we will only give you a puppy that is quality enough that we would keep it for ourselves.
Contact us anytime,
Sandy and Doug Liston